ORPHEUM THEATRE
1192 MARKET ST.
AT HYDE ST. & 8TH ST.
San Francisco, CA 94102
 
Officially designated as a San Francisco Landmark in 1977 by the San Francisco Landmarks Preservation Advisory Board, the Orpheum Theatre originally opened in 1926 with an façade patterned after a 12th-century French cathedral. Although this 2,200-seat theatre—located at the corner of Market Street and 8th Street—saw an external rejuvenation in 2016, the original and historical integrity of the landmark prevails as the Orpheum continues to welcome audiences across the San Francisco Bay Area to revel in the razzle-dazzle of Broadway.

The following items are prohibited from being brought inside the theatre: Weapons (this includes knives, pepper spray, and weapons accompanied by a valid CCW permit); Professional cameras and recording devices; Large bags, such as suitcases; Outside food and drink (this excludes water). Only service animals are allowed inside the theatre.
CURRENT BOX OFFICE HOURS
MAY 15 – 21
MON: CLOSED
TUE: 4:30PM – 8:30PM
WED: 3:30PM – 7:30PM
THU: 4:30PM - 8:30PM
FRI – SUN: CLOSED

MAY 22 – JUN 18
MON: CLOSED
TUE: 4PM – 8PM
WED: 11AM – 8PM
THU/FRI: 4PM – 8PM
SAT: 11AM – 8PM
SUN: 11AM – 3PM
Will Call tickets are available for pick up at the theatre box office beginning 2 hours prior to curtain time only. Sales for future performances stop one (1) hour prior to curtain time and resume once curtain has gone up.
Directions
Seating Map
MARQUEE LOUNGE AT THE ORPHEUM THEATRE
NOW OPEN! Step away from the crowds and experience the all-new Marquee Lounge, before, during, and after your performance at the Orpheum Theatre.
Learn More
COVID-19 POLICY
Per City of San Francisco guidelines, patrons are no longer required to wear a mask indoors, although it's highly recommended. Proof of vaccination is no longer required for entry.

We update our COVID-19 policy as new mandates are issued and in conversation with government and medical leaders. Policies are subject to change. We recommend checking the latest entry requirements for our theatres one week prior to your scheduled performance.

For questions about our policy, email us at feedback@broadwaysf.com.
TRANSPORTATION
BART
For BART, exit at the Civic Center/UN Plaza station. More Info >
Click here for a map of the Civic Center/UN Plaza station's entrances and exits.
Use the Market Hyde staircase and the theatre will be there to your right. Currently, the escalator located on the East side of Market and 8th Street is closed for construction of a new entryway. We recommend using the elevator, which has an attendant on duty at all times. The elevator's street entrance is ½ block towards UN Plaza on the Orpheum side of Market Street.
The Civic Center/UN Plaza BART station has 2 working escalators, but both exit into areas of UN Plaza that are not on our recommended routes.
SF MUNI
For Muni Metro, take lines J, K, L, M, N, S and T and exit at the Civic Center station. The following bus and trolley lines are located directly in front of the Orpheum Theatre: F, 5, 5R, 9, 19, and 7. More Info >
Click here for a map of the Civic Center/UN Plaza station's entrances and exits.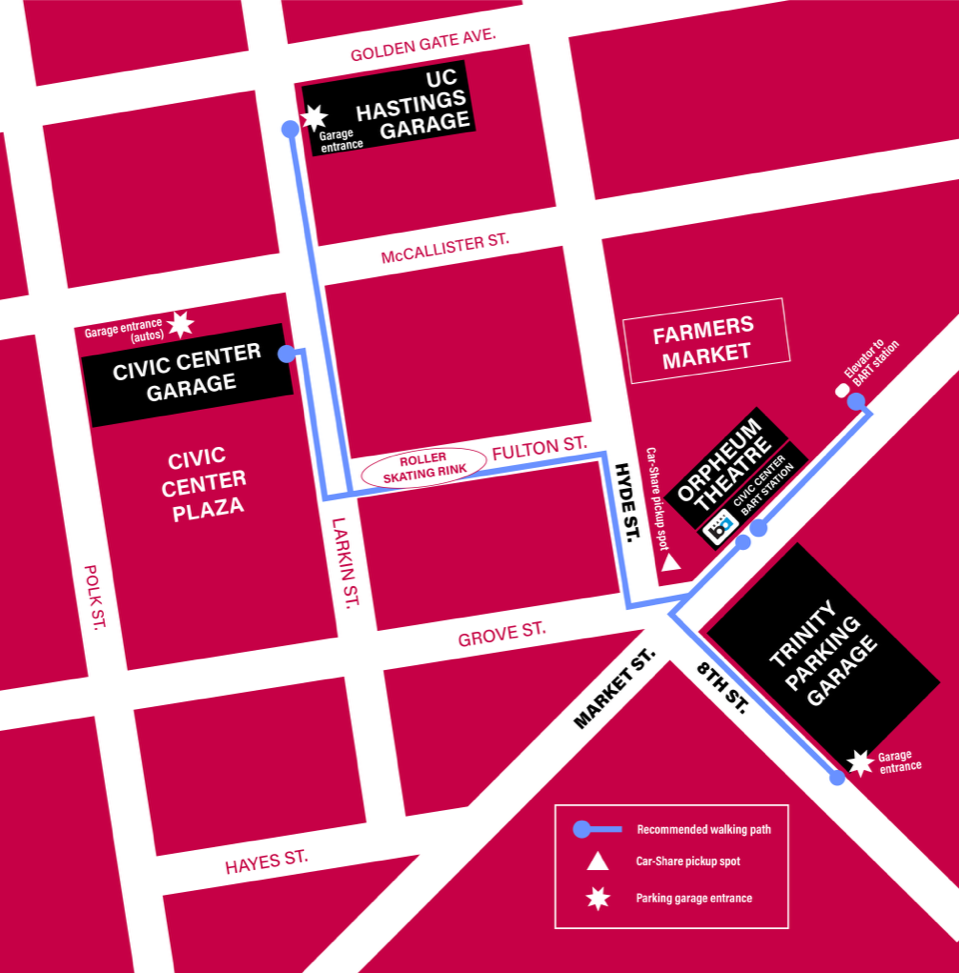 PARKING
STREET PARKING
Limited street parking is available. Parking meters are enforced Monday–Saturday. Most meters operate 9am– 6pm, but hours vary by area. On Sunday, meters are not enforced, but make sure to always check all meter and street signs. The only meter holidays are Thanksgiving, Christmas Day and New Years Day. More Info >
SPOTHERO
We recommend booking convenient and affordable parking in advance through SpotHero, the nation's leading parking reservations app.

To reserve your parking spot, visit the Orpheum Theatre SpotHero Parking Page and book a spot with rates up to 50% off drive-up.

New to SpotHero? Download the SpotHero iPhone | Android app.



GARAGES
TRINITY PLACE
33 8th St.
San Francisco, CA 94103
---
Can also enter on Mission Street.
Get Directions
CIVIC CENTER GARAGE
355 McAllister Street
San Francisco, CA 94102
---
Guarded, underground garage
MON–FRI: 6AM–10PM
SAT: 8AM–10PM
SUN: 9AM–10PM
Learn More >
Get Directions